Sign up here to get our weekly recipes & Keto tips by email.
The products on this page may be affiliate links; many of them found on Amazon. If you purchase any of these products through our links, we will receive a small commission from the sale. See our Affiliate Disclaimer for more information.
Our Keto, Carnivore, & Fasting One Month Challenge Blog
As the new year rolls around, everyone is talking about resolutions, getting back on track, or getting their act together in one way or another.
I don't believe in resolutions. In fact, I made a resolution never to follow a resolution because I find that a paradox is more fun than a wish masquerading as a promise to myself.
Instead, Rebecca and I decided to challenge ourselves for the month of January. It just seemed like a good way to kick off the new year.
We've been living Keto for a little over a year now. It started when I was diagnosed with Type 2 Diabetes.
We successfully kicked that particular obstacle to the curb, lost a good bit of weight and are both much healthier than we were. The people around us who are living Keto now have similar stories as well.
Our One Month Challenge
For the month of January 2019, we are going to implement a few tactics into our health and fitness strategy. To learn more about building your own strategy, click here and go through our Free 7 Day Keto Strategy eCourse.
Carnivore Keto
January is officially World Carnivore Month, so we are going to implement Carnivore Keto.
For those not familiar, this means we will only eat Meat, Eggs and Water. Basically, anything that comes from an animal is fair game here, though we plan to limit the cheese we eat (if we eat it at all).
Fasting
I am going to implement Intermittent Fasting, keeping my daily feeding window to about 1 hour. That means, I will have one meal per day and fast for 23 hours.
Rebecca is going to do that as well, but she also has plans to do some extended fasting. She has her sites set on doing at least one full week, but we're going to monitor how she feels and adjust that plan accordingly.
While I don't know whether a consecutive day or two of fasting is in the cards for me, I may give it a try as well.
Blogging Our Progress
The plan is to record our progress during this month-long challenge.
Each day, I will add to this post and briefly describe our experience from that day. We will let you know what we ate, how we felt and what our stats looks like.
The purpose and goal is that at the end of this post, on January 31, we have a record of our journey through the challenge. Hopefully, others can learn from that experience because I know we will learn from it as well.
We're excited to do this together; to be challenged and to have a chance to share it with you.
Make sure to come back and catch up on our progress through the month of January 2019.
Over the last couple days, Rebecca and I acted up a little. We flew off the Keto rails with a vengance.
After doing Keto for so long, we know we're fat adapted, but we wanted to make sure we were not in Ketosis when we started our January challenge.
Also, we wanted to celebrate the end of the year with some pizza and beer. Yep, that happened. It was the first pizza we'd had in over a year and it was glorious!
There may have also been some chocolate.
We have no regrets!
My blood glucose this morning was 106. Not bad after two days of carbin' it up, especially for someone who is supposed to have Type 2 Diabetes.
Without further ado, the following format will be what I post each day until the end of January.
Eric's starting stats
Weight Loss: None yet (come on, we just started!)
Glucose: 106
Ketones: Too low to get a reading
Rebecca's starting stats
Weight Loss: None yet.
Glucose: 93
Ketones: Too Low to get a reading
These numbers are taken first thing in the morning each day before we eat or drink anything.
Our Meals Today
So far, we've only had coffee. Mine was black with nothing else in it. Rebecca had a little cream and Truvia in hers. No, that's no Carnivore, but this is the first day. That's not an excuse; just being honest. We're easing into this thing a little bit.
For breakfast, around noon, we're having some beef short ribs that I have on the smoker as I write this update. And I have some chicken wings set out to thaw for later. I intend to deep fry those in beef tallow.
Today's plan doesn't incorporate our "one meal per day" tactic, but it's New Year's Day. We're sticking to Carnivore, but we're celebrating just a little by having two meals.
And I'm looking forward to both!
How We Feel
Surprisingly, we don't feel that bad after having a couple days worth of carbs. We are a bit swollen though. My wedding ring didn't want to go on my finger this morning.
I can tell that I'm a bit more sluggish than normal, though. We're both looking forward to getting back into Ketosis to get a bit of pep in our step. Laziness is not a feeling we enjoy because we're active people.
A few of our readers asked us what we're using to test our blood for Ketones. We did a bunch of research and found that Keto Mojo (affiliate link) had great reviews. We ordered one and started using it. We've been really happy with it, and I have no problem recommending it. It's far more accurate than the Ketone strips you pee on.
The downside is that the strips themselves are a little pricy, especially if you're checking your ketones every day. They're worth it, though, if you want to keep an eye on how certain foods effect your blood and make sure you're not being knocked out of ketosis by something you're eating.
January 3
Yes, I've already skipped a day in writing this post, but we decided that adding 31 entries might get a little redundant. Also, we both work full time. So writing that much would be a challenge. From this point, we're shooting for an update on MOST days in January. Don't judge!
Eric's Day 3 Stats
Weight Loss: -3.8 lbs since Jan 1
Glucose: 110
Ketones: .3
Rebecca's Day 3 Stats
Weight Loss: -3.4 lbs since Jan 1
Glucose: 96
Ketones: .1
Our Meals Today
I had a 10oz sirloin steak, pan seared in Kerry Gold butter and 3 eggs cooked in the same. And I've had LOTS of water. And yesterday, I had a Triple Cheese burger from Wendy's with no bun, veggies or condiments; just meat and cheese. It was a busy day, and I didn't have time to stop for anything else, so I made due. Wendy's claims to have "fresh, never frozen all beef patties".
Rebecca has been having her Snake Juice, which is an electrolyte mixture that someone in her fasting Facebook group told her about.
EDIT: Adding a recipe for Snake Juice here because people have asked for it:
2 liters water
Epson Salt – 1/2 tsp
Potassium chloride or NoSalt – 1 tsp
Pink Himalayan Sea salt – 1/2 tsp
Bob's Red Mill Baking Soda – 1 tsp
Mix everything thouroughly in a glass jar. This mixture will corrade plastic, so store it in glass.
Note: She uses Bob's Red Mill baking soda because it's aluminum free. You can order it on Amazon here. (affiliate link)
How We Feel
Yesterday, we both felt tired and a bit irritable. We expected that, though. Getting your body readjusted (or adjusted in the first place) to Keto can be challenging.
Today, we're feeling better, though. She's on the second full day of her fast, an I am officially on the second day intermittent fasting.
We were both hungry yesterday, and I was pretty hungry today when it was time to eat. After eating both today and yesterday, I wasn't hungry again for the rest of the day. She hasn't really been hungry today.
Eric's stats
Weight Loss: -5.2 lbs
Glucose: 106
Ketones: Too Low
Rebecca's Stats
Weight Loss: -6.4 lbs
Glucose: 74
Ketones: 1.3
Our Meals Today
I always have a cup of black coffee in the mornings and at least a quart of water with a couple pinches of Himalayan Sea Salt in it. I had an omelette this morning with cheddar cheese, sausage, bacon and chorizo. I had to order out, so it was expensive, and I wasn't sure if the meat had any sugar/additives in it. From now on, I will make extra sure to plan ahead when I'm not going to be home for meal time.
The meal was ok, but not as satisfying. I was hungry when I got home, so I had 3 more eggs and 4 ounces of William's sausage (it has no sugar in it!). It broke my one meal per day rule, but I was still able to fast over 16 hours after my afternoon snack, so that qualifies me for intermittent fasting.
Today is Rebecca's 3rd full day of fasting. She had 3 liters of Snake Juice, 2 cups of black coffee, 1 LaCroix unflavored water. We both had 1 cup Sleepy Time Tea with Valerian root.
How We Feel
I feel good today, with a lot of energy. It seems like I've been going full throttle today too with work and other things going on.
We both had a little trouble sleeping last night for some reason, so we decided to try the Sleepy Time Tea. I'll let you know how that works out for us. If it's a good product, I'll add a link before where you can order some if you want to try it out.
It's worth noting here that Rebecca read in one of the fasting groups she follows, that people who do extended fasting sometimes have trouble sleeping early in their fast.
Rebecca has been tired and irritable today. It's tough to know whether it's her fast, or the stress of work. She has a heavier than normal work load this month, so she's been, understandably, stressing about that.
She has also been really cold, which is a direct result of fasting. A lot of people struggle to stay warm while fasting. I've noticed that to a degree, but it hasn't affected me as much since I'm still eating at least once per day.
Eric's Stats
Weight Loss: -5.4 lbs
Glucose: 98
Ketones: .3
Rebecca's Stats
Weight Loss: -7.6 lbs
Glucose: 60
Ketones: 2.0
Our Meals Today
I started off with a cup of black coffee and a quart of water with pink himilayan sea salt in it. For breakfast, I had 12 chicken wings baked in butter, lard and spices, then tossed in some Frank's hot sauce. I also had 4 eggs and a few chicherones.
Rebecca had 2 cups of black coffee, 3 liters of Snake Juice, and 1 LaCroix unflavored water. She will have a cup of Sleepy Time Tea before bed.
How We Feel
 I feel great today. My work has been pretty efficient, and I've gotten a lot written. I do enjoy the mental focus that Keto gives me!
We both slept well, so I'm certain that the Sleepy Time Tea is worth it. It makes Rebecca sleepy not long after she drinks it.
I've never been good at sleeping, so it still takes it a while to work on me, so I'm typically up writing and/or playing video games while she sleeps. But when I finally went to bed, I got good quality sleep, which is fairly rare for me.
SleepyTime Tea for the win!
This is the exact box that we ordered.
We found that the price was comparable at our local Walmart, but if you order it thorugh our link, you'll help us out. We get a small commision as an Amazon affiliate for purchases made thorugh our links
And we appreciate your support!
Eric's Stats
Weight Loss: -4.2 lbs
Glucose: 104
Ketones: .3
Rebecca's Stats
Weight Loss: -9.2 lbs
Glucose: 68
Ketones: 3.4
Our Meals Today
 I started the day with a cup of black coffee and a quart of water with pink Himalayan sea salt  and iodine in it. Around 1pm, I grilled a couple top sirloin steaks; about 16 ounces for of beef. An idea for a garlic cream sauce has been swirling around my head for a few days, so I tinkered around with that in an effort to create a new recipe. It was fantastic! A perfect compliment to the grilled steak.
I had 3 eggs and an ounce of cheese with that.
Rebecca is still fasting, so she had basically the same thing she had yesterday; Snake Juice and a plain LeCroix. She's also following a pretty intense supplement regiment as well. I'll include that in this post below.
How We Feel
 I feel great. Working at my desk a lot, I've had a lot more creative energy for writing and taking care of some of the admin stuff that comes with working for yourself. I'm not certain why I put a pound back on today, though I think I'm holding onto a little water. Maybe I didn't drink enough yesterday or something. Whatever it is, I'm determined not to let that trip me up. We're doing the right thing here and I'm excited about our results so far.
Rebecca was tired today. We had a wedding to go to and she was concerned that she wouldn't feel like being around people. We went for the ceremony and politely made our exit before the reception festivities. She turned in early, leaving me to stay up and work on this post. She struggles a little with being hungry, but she's determined to "keep her mind right" – her words.
She told me that, while she still struggles a little to stay warm, it's not as bad for her this time as it was the first time she did a longer fast. That one was 5 days long.
I'll note that Sleepy Time Tea has become a nightly thing for us. It works!
Eric's Stats
Weight Loss: -6.4 lbs since Jan 1
Glucose: 108
Ketones: To Low
Rebecca's Stats
Weight Loss: -10.8 lbs since Jan 1
Glucose: 54
Ketones: 4.7
Our Meals Today
I started the day with my usual: black coffee and a quart of water with iodine and pink Himilayan sea salt in it. Since I do that every day, I won't list that for the rest of this post.
Around 1pm, I grilled two pork chops with cajun spice that yielded about 12 ounces for meat. To that, I added 4 ounces of bacon and 4 eggs with a little cheddar cheese. I also had a couple LaCroixs and a lot of regular water.
Rebecca is still fasting so she had the same thing she's had every day for the last 6 days.
How We Feel
 I'm still feeling amazing! However, I should note that I fell out of ketosis. After taking a look at what I ate yesterday, I discovered that garlic has a good bit of carbs in it. The sauce that I put over my steaks had a lot of garlic in it.
I can't say for certain whether the garlic is the culprit, but I'm going to stay away from it for a while, especially while on carnivore.
Rebecca is starting to feel a lot better today! She has a lot more energy, and she has a lot of mental clarity. She's still cold a lot, but that seems to be getting better as well.
Rebecca said that fasting has made her realize how much she relies on food when she's feeling stressed. She also noticed that she feels a need to reward herself with food a lot as well. This experience has taught her a lot about her dependancy on food, and I've learned alot from her through this.
So much of what we do as a society and as a culture is centered around food. We eat so much and so often, there's no wonder there are so many people with metabolic diseases like Type 2 Diabetes.
We signed up for Butcher Box this month. We figured since we were trying to go Carnivore, this would be a perfect time to try it.
We liked it so much, we knew we were going to advocate for their products, so we applied to become an affiliate.
Butcher Box was gracious enough to accept our application, so now, if you give them a try through our link, we will get a small commission from the sale.
The flavor of grass fed beef is beyond compare. There's no way to describe the difference to you. You just have to try it yourself. I will write more on this in a later post because it's worth it's own dedicated discussion.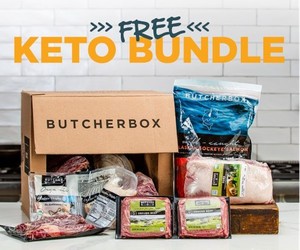 Click here to give it a try. (affiliate link)
They even gave us a discount code we could share with our readers.
Use code AP10 at checkout to get $10 off and free bacon with your first box. (Ya'll, their bacon is legit!!!)
Eric's Stats
Weight Loss: -8.4 lbs since Jan 1
Glucose: 82
Ketones: .2
Rebecca's Stats
Weight Loss: -11.6 lbs since Jan 1
Glucose: 55
Ketones: 5.2
Our Meals Today
 This afternoon, I had 12 baked chicken wings in a sauce made with Frank's Red Hot and butter. I also made a dip with sour cream, dried herbs and pepper spices; no garlic! To that, I added a few pork skins and 3 eggs fried in butter.
Rebecca is still fasting, so she had her normal "fasting day" regimen. This is her 7th full day!
How We Feel
I had a good bit of energy today, but I've been moody. Partially, that was circumstancial due to some issues with my work, but typically I can bounce out of that pretty fast. I struggled getting my head out of that funk today. I don't know if that has anything to do with diet, but it's worth noting here to see if any type of trend develops.
I am happy to see my glucose back down after yesterday.
Rebecca reports that she has been hyper focused at work today and she has a lot of energy. While she still struggles feeling cold, her mood seems to be more possitive than in her first few days of fasting.
We're still making use of the SleepyTime tea, and both of us have experienced improved sleep.
Eric's Stats
Weight Loss: -7.4 lbs since Jan 1
Glucose: 112
Ketones: .1
Rebecca's Stats
Weight Loss: -13.1 lbs since Jan 1
Glucose: 57
Ketones: 4.9
Our Meals Today
 Around 3pm, I had about 8 ounces of beef brisket, 6 eggs, a few pork skins and 2 ounces of cheese. There was a flavored LaCroix and a lot of water as well.
Rebecca is still fasting, so she had her normal "fasting day" regimen. This is her 8th full day!
How We Feel
I was frustrated with my glucose today. Taking a look back at what I ate yesterday, I don't know whether it was the spices that I put in the cream cheese dip or the chicken itself that caused the spike since there were no carbs in anything I had.
For a while, I think I'll do without chicken and see if that makes a difference.
Otherwise, I felt good and had a lot of energy, though I've still been a bit moody; just kind of bummed in general. Again, I'm not sure if that's diet-related or work-related. I feel satisfied with what I'm eating.
Rebecca reports that she is feeling great. Another day of being hyper focused. This is an extremely busy time of year for her, and she's been able to get a lot of work done. She's excited about that and feels like it's because of the mental clarity she's gotten from fasting.
She noticed that when she drinks a plain LaCroix, her stomach makes all kinds of crazy sounds. She hasn't really been hungry though.
Eric's Stats
Weight Loss: -5.2
Glucose: 86
Ketones: 0
Rebecca's Stats
Weight Loss: -14.4
Glucose: 53
Ketones: 5.5
Our Meals Today
Rebecca decided to break her fast today after 9 full days! I'm so proud of her. This was such a milestone for her.
Around noon, she had some bone broth with a bit of brisket cut up in it. She wanted to get her stomach adjusted to having food in it again. After she had that, though, the real hunger set in.
 So I went to the store and bought some New York Strip steaks!
Adding a little salt and pepper to those steaks, I put those on the grill and fried some eggs in butter. We added a few slices of bacon, topped the steaks with butter and had our meal around 3pm.
About an hour later, we had a few pork skins sprinkled with my home made cajun seasoning.
Then about another hour later, we got completely off the carnivore track because Rebecca made us a frozen Keto desert with avacado, pecans, dark chocolate, stevia and voodoo magic.
In other words, she made something up that tasted amazing, because that's what we does.
How We Feel
 We feel great today, though obviously, we hit a bump in the road on Carnivore. No that we've gone off path, we both feel a bit guilty about it.
Talking through it, we're trying to determine at this point whether we failed the carnivore callenge or if we can pick it up again tomorrow; just call this a bump in the road.
Eric's Stats
Weight Loss: -8
Glucose: 84
Ketones: 1.7
Rebecca's Stats
Weight Loss: -16.2
Glucose: 79
Ketones: 3.1
Our Meals Today
We got back on track with Carnivore today. We had New York Strip steaks cooked on the Treager, some bacon and a few eggs each for breakfast. It was a fantastic breakfast and held us over nicely the rest of the day.
How We Feel
We feel great, with a lot of energy and mental clarity. With the SleepyTime tea, we're sleeping well and physically feeling wonderful.
We're struggling a little, though, mentally. Doing carnivore, I haven't been hungry, but I'm really starting to miss having variety in what I eat. 
Rebecca admits that now her fast is broken, she's craving more than just meat, eggs, and water.
Tomorrow, we're getting together with Rebecca's parents to celebrate her dad's birthday. It's already tough to dine out, especially on carnivore. But it becomes especially difficult when you want to celebrate with someone.
At least it does for us.
We haven't decided yet what we're going to do tomorrow, but it's a little strange that we're already feeling guilty about the thought of cheating on this challenge.
Eric's Stats
Weight Loss: -9.6 since Jan 1
Glucose: 84
Ketones: 1.7
Rebecca's Stats
Weight Loss: -12.6 since Jan 1
Glucose: 79
Ketones: 3.1
Our Meals Today
Ok, so we completely went off the rails today. We went out with Rebecca's parents to celebrate her dad's birthday.
It started out ok. We went to Longhorn Steakhouse and each got a Porterhouse steak, but there was the side. Keeping it Keto, we go broccoli with cheese and bacon. Since we knew we were going completely non carnivore, we got the Mushrooms app (because it's our favorite) and we got salads.
At least it was all still Keto.
We ate and had a good time!
This next bit is where our rebellion and the feelings we've been having about being so restrictive really lured us out in the wilderness.
We went shopping. Rebecca and her mom love visiting Good Wills and finding those really great deals. So we went along.
As the day wore on, we started to get hungry… and thirsty.
Maybe it was the stress of dealing with the public, the aggrevation of shopping, the obscene amount of traffic, or a dozen other excuses I could give you, but at some point, we both decided that since we already fell off the Carnivore Train, we were going to have a full blown cheat day and accept it if we blew up our Carb macros.
We ended up going to our favorite watering hole and having a couple beers.
We also got some cauliflower pizza and salads.
How We Feel
Well, we both felt like jerks, obviously, because we made a commitment to do Carnivore for a month and write about our experience here.
However, I still think there's value to be found here because there are probably some of you who have tried something like this and failed. Or you didn't get all the way through it.
The key here is that we tried. The only people who never fail are the people who never try anything.
And we did learn some things from it.
When we started this post, the idea was to keep a running log of the month, so our readers could see our day by day results, and follow the lessons we learned along the way.
We also thought that this would be a tool that would keep us accountable.
That backfired. Really bad.
Rebecca and I both started feeling confined by that accountability. We have done things like this before for ourselves.
She's done extended fasts, cleanses and long-term programs on her own.
I've done intermittant fasting and excersize programs and things like that before.
When we are doing something like that using our own will power, we're much more successful. The second we HAD to do it, we rebelled.
I think the lesson here is to do things like this for yourself.
Find your "why" (your reason for acting), set a goal and develop a strategy to meet that goal.
If you're "why" is not something you can live with, you'll never stick to it; you'll never reach your goal.
Conclusion
We failed to stick to a solid month of carnivore.
However….
Rebecca succeeded in a two week fast.
I did well with two weeks of carnivore.
We learned some valuable lessons about ourselves and about each other.
We know that we can lock down our lifestyle and go hardcore at least for a couple weeks at a time.
We gained more of an appreciation for Keto. After being excessively strict for a couple weeks, regular Keto doesn't feel confining at all. It really does give you a lot of freedom in the foods you can eat. There was a time, when we first started investigating Keto, that we felt like we would never be able to stick to it because it would get boring.
Boy, were we wrong. And now that's even more clear to us.
Thanks For Reading
If you followed this post to the end, thank you for reading! We hope you've learned as much from this experience as we have. If you have questions, please leave us a comment below, or send us a note at info@ketoginger.com
Also, follow us on Facebook where we'll be talking more about this challenge.
We also invite you to join us for this challenge or to do a month long challenge for yourself. We would love to hear how it goes if you do that!
Welcome to Keto Ginger; a blog about our journey along the Keto Road. We hope our research, experience, and recipes will help others who have started down the same path, or who are simply Keto curious.
Other Posts You May Enjoy
Enjoy sweet, spicy Italian Sausage on Keto without carby fillers. Control the flavor, spice, & quality when you make it yourself with our easy, yummy recipe.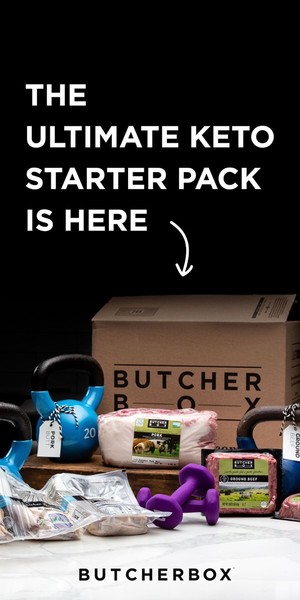 ketoginger.com is a participant in the Amazon Services LLC Associates Program, an affiliate advertising program designed to provide a means for sites to earn advertising fees by advertising and linking to amazon.com.