Sign up here to get our weekly recipes & Keto tips by email.
The products on this page may be affiliate links; many of them found on Amazon. If you purchase any of these products through our links, we will receive a small commission from the sale. See our Affiliate Disclaimer for more information.
Strawberry Keto Mojito Recipe
Skip the tips and go straight to the Recipe!
Mojitos and Summer go together like Peanut Butter and Jelly.
Almost like magic.
They just fit.
It's everything that's right.
Unlike peanut butter and jelly, however, it's a lot easier to remove the carbs from a mojito and still make it a stellar adult beverage.
I know… we just posted our Blackberry Keto Mojito recipe because blackberry is one of my favorite things ever. But one of Rebecca's favorite thing ever is Strawberry, and she's come up with a keto mojito featuring that flavor that will knock your bikini off! (or…. you know, your swim trunks if you're a dude…)
The point is, this is a fantastic drink that you NEED to be sipping on beside the pool this summer.
Read on, dear libation lover and we'll tell you how to make our Strawberry Keto Mojito.
The Ingredients
Fresh Strawberries: Nothing fancy here. Just get some nice, fresh ones at your local grocery or farmer's market. Here in Tennessee, you can often find people selling them from the back of their truck on the side of the road. We love us some strawberries here! There are only 9 net carbs in a cup of strawberries, and they have a bunch of health benefits, so they're perfect for Keto.
Powdered Monk Fruit
We use this stuff a lot. It's a natural, calorie free, carb free sweetener with some great health benefits and none of the side effects of artificial sweeteners or sugar alcohols.
Check out this article to read more about the health benefits of Monk Fruit. 
Monk fruit tastes good without a tinny aftertaste, and it also dissolves well in water which makes it great for this recipe!
Basil Leaves
If you don't grow your own (because it's super easy and you should!) just pick up some whole basil leaves at the grocery (they have 'em at Walmart). You can typically find them in the cooler section with the other veggies. 4 leaves will add less than .1 net carbs to this drink.
Lime
This is easy mode. Get a fresh one at the grocery. 1 tablespoon of lime juice has about 1 net carb in it. I doubt you squeeze that much out of half a lime, which is what this recipe calls for, so you're good on carbs there.
Rum
We used plain old clear Bacardi for this recipe. I would stay away from super high-quality rums because those aren't for mixing (I'm a bit of a rum snob). Also, a spiced rum isn't necessary. You want the flavors of the strawberry, basil, and lime to shine through in this drink.
Strawberry Bubbly
You can use a bit of seltzer water if you don't have this on hand. Strawberry Bubbly just reinforces the flavor of the strawberry without adding any carbs or funny ingredients.
Also, if you like flavored water, this stuff is quite good all on its own! You can get this for the same price at Walmart or Amazon, so it's easy to get your hands on.
Mortar and Pestle
The only special tool I would recommend here is a mortar and pestle.
You can muddle the basil in other ways, but every kitchen needs a mortar and pestle for smashing up spices and mixing various ingredients.
It's one of those old school kitchen tools I thought I would never need until I got one. Now I find myself using it fairly often.
If you buy one, get one that's good and heavy like the one I've linked here
Method Notes
Don't get in a hurry. There are a lot of "quick" mojito recipes out there, but if you really want the flavor to come out in this one, take your time and do it right. Your patience will be rewarded.
It's a good idea to make the "strawberry simple syrup" mixture ahead of time and let is sit in the fridge overnight. I've humbly requested that Rebecca go ahead and make up several gallons of the stuff just to have on hand all the time. Because….. we might have company or something.
Thanks for Reading
We hope you enjoy our Strawberry Keto Mojito. If you give this recipe a try, please let us know how it works out for you. Please drop us a line in the comments below, send us an email at info@ketoginger.com or join us on our Facebook Page where we share and discuss Keto recipes all the time.
We post new recipes and Keto tips weekly, so if you don't want to miss those, sign up for our weekly Email by clicking HERE.
Strawberry Keto Mojito Recipe
Ingredients
Water: 2 cups
Confectioner's Monk Fruit: 2 cups
Fresh Basil Leaves: 3-4 leaves
Strawberries: 16 oz (by weight)
Clear Rum: 3 fluid oz
Strawberry Bubbly: 4 fluid oz
Lime Juice: from half a lime
Instructions
To Prepare the Strawberry Simple Syrup – You can make this ahead and keep it for 2-3 days before you make your mojitos.
Add water, conectioner's monk fruit to a medium sauce pot and bring to a boil over high heat, stirring occasionally.
Reduce heat to simmer.
Mascerate the strawberries.
Using a mortar and pestle, muddle the basil leaves.
Add the strawberries and basil leaves to the simmering liquid, stirring every few minutes for about 20 minutes.
Remove from heat and let cool in refrigerator for a couple hours.
Strain liquid through a fine sieve and return to fridge until you're ready to make your mojito (up to 2-3 days)
For an Individual Mojito
To a glass, add:
3 oz rum (about 2 shots)
3 oz strawberry simple syrup
4 oz Strawberry Bubbly
Juice from half a lime
Ice
Garnish with fresh or frozen strawberries and a basil leaf
To Make a Pitcher of Mojitos
To a 32 ounce Pitcher, add:
1 cup + 2 tbsp Rum
1 cup + 2 tbsp Strawberry Simple Syrup)
1 12oz can Strawberry Bubbly
Juice from 2 limes
Ice
Garnish with fresh or frozen strawberries, a slice of lime and a few basil leaves.
Enjoy on a hot day.
Drink responsibly.
Only drink if you are of legal drinking age.
Macros
Macros listed are per 10oz drink
Servings: Syrup makes enough for roughly 10 drinks
Calories: 15
Fat: 0
Net Carbs: 2.7
Protein: .4
A few of our readers asked us what we're using to test our blood for Ketones. We did a bunch of research and found that Keto Mojo (affiliate link) had great reviews. We ordered one and started using it. We've been really happy with it, and I have no problem recommending it. It's far more accurate than the Ketone strips you pee on.
The downside is that the strips themselves are a little pricy, especially if you're checking your ketones every day. They're worth it, though, if you want to keep an eye on how certain foods effect your blood and make sure you're not being knocked out of ketosis by something you're eating.
Welcome to Keto Ginger; a blog about our journey along the Keto Road. We hope our research, experience, and recipes will help others who have started down the same path, or who are simply Keto curious.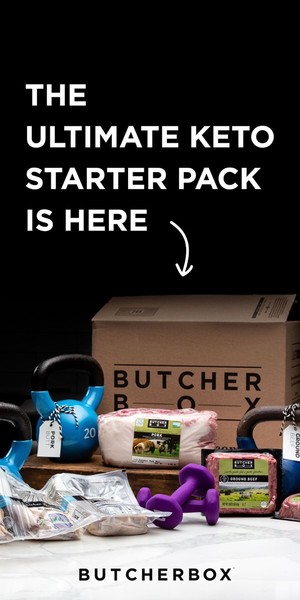 This low carb Guinness Beef Stew recipe has the traditional flavor of the Irish dish, but a fraction of the carbs. Celebrate a Keto St. Patrick's Day!
ketoginger.com is a participant in the Amazon Services LLC Associates Program, an affiliate advertising program designed to provide a means for sites to earn advertising fees by advertising and linking to amazon.com.